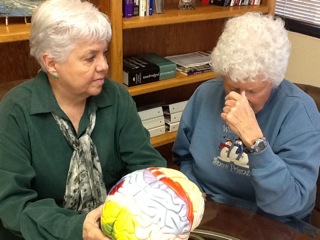 Injuries to the brain not only disrupt the life of the person experiencing them, they have a devastating impact on the family and loved ones. Once immediate medical problems are dealt with, longer-term issues must be faced. In this process the life of everyone involved is affected. Issues that must be addressed include:
coping with all the changes
dealing with the confusion of not knowing where to turn for help
what to do next
where to find needed resources
The coordination of Neurofeedback with Psychological Services is one of the unique features of New Hope For The Brain. We're here to help both clients and caregivers deal with these issues on either an individual or group basis.
Neurofeedback has an impressive history of being used successfully with a variety of problems such as traumatic brain injury, stroke, early dementia, A.D.D., M.S., epilespy and other seizure disorders. An unexpected result of this success, however, is the fact that success can come at a time when self-confidence is at an all-time low.
For both the client and the client's loved ones, improved functioning carries with it an expectation for a change in the client's confidence level and a willingness to function at a higher level than previously possible. Support during this transition and re-integration period is vital to ensure the client's successful re-entry back into social and vocational endeavors.
Psychological Screening and Assessment are available to identify strengths which the client can use to address their problems. These problems may involve cognitive, emotional, personality, mood or functioning factors. For example, Stress Management and Anger Management are important areas to address.
Trauma therapy for PTSD is an increasingly recognized need in our culture. Whether the trauma's source is recent or in the past, due to addictions or violence, rooted in abuse or neglect, there truly is new hope for the brain's recovery.
All these areas are easier to cope with using New Hope For The Brain's coordinated services.